To or from Nantes Atlantic Airport
Consider booking your VTC taxi ride with your private driver to or from Nantes NTE Airport.
You can book either by phone at 07-49-379-379 or with our online booking tool on this website.
Whether during the day or at night, 24 hours a day, Samy your driver will take you to your destination towards Montaigu, La Rochelle, Angers, Cholet… or other things.
Enjoy a quality service at a competitive, transparent and fixed price.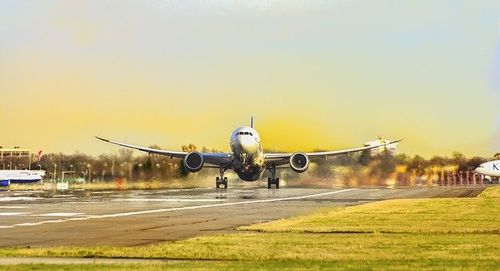 Day passes for a VTC taxi from Nantes NTE Airport
| Destinations | One-way fare |
| --- | --- |
| Route NTE airport from Nantes to Nantes Station | €39 |
| Route NTE airport from Nantes to Montaigu | €126 |
| Route NTE airport from Nantes to Cholet | €203.70 |
| Route NTE airport from Nantes to Angers | €302.40 |
| Route NTE airport from Nantes to the Roche on Yon | €213.90 |
| Route NTE airport from Nantes to Les Sables d'Olonne | €325.20 |
| Route NTE airport from Nantes to La Baule | €236.10 |
| Route NTE airport from Nantes to Guérande | €246.30 |
You are planning to catch a flight at Nantes-Atlantique airport, or you will land there, our driver Samy from Vip Travel Comfort will be waiting for you to drive wherever you want.
We offer you to sit comfortably in an all-electric Tesla vehicle with private driver for all your trips to or from the airport. Enjoy a quiet and comfortable journey in our VTC taxi.
Enjoy quality transport in the best conditions. Your driver will drop you off at the airport or pick you up at the time you have specified, and wait for you if your plane is delayed.
Upon arrival at the airport, your driver will be waiting for you in the arrivals hall and help you carry your luggage to the Tesla vehicle. After a plane trip, what a pleasure to be taken care of without worrying about the itinerary, the stress of traffic jams, or the fatigue accumulated throughout your flight!
Book your ride now with your private driver for a VTC taxi trip with Vip Travel Comfort, you won't regret it.
The fare for your journey, the point of departure to the airport or the airport to your destination, is set as soon as you book and you pay no additional fees. This allows you to avoid unpleasant surprises once you arrive at your destination.
Don't hesitate, our driver Samy will be happy to drive you safely!
A quality service on board a high-end vehicle impeccable and a well-groomed driver to welcome you.
Your driver will be punctual to pick you up or drop you off on time for your flight.Compared to traditional taxis, we offer our customers financial and practical advantages.At the financial level, our services are offered at very competitive and very affordable rates. Our driver Samy who will drive you master several routes and non-cluttered shortcuts. So you can trust him in terms of punctuality, efficiency and responsiveness.
You may be in urgent need of a vehicle for one reason or another at the same time, and enjoy the comfort of a high-end car like the Tesla, which we offer for your travels. You can benefit from the services of a private VTC taxi driver. This is a Transfer Car service with Driver which allows you to go wherever you want.